Addo Elephant National Park
Addo Elephant National Park is the third largest game reserve in the country after recent incorporation of further adjoining land.
The South African game reserve is famous among tourist for its large elephant herds that graze on the vegetation and parade in a calm manner.
You can witness these marvellous creatures by simply travelling to one of the waterholes, which is a hot spot for elephants. The game reserve is also famous for viewing the Big 5. Due to its close proximity to the coast, travellers can visit Algoa Bay for an opportunity to see Southern Right Whales and White Sharks. The area has a range of Safari Game Lodges for the discerning traveller.
Excellent Wildlife

Famous for Elephants, but also excellent opportunities for encounters with all of the Big 5 and much more.

Game Drives

Open vehicle game drives are the best way to get close to these majestic animals. Experienced rangers deliver once-in-a-lifetime moments.

Superb Safari Lodges

Acclaimed private lodges delivers luxury and convenience in a unique safari setting.

Night Game Drives

At night the bush comes alive once more as the nocturnal animals emerge. Vehicles are fitted with spotlights for optimal game viewing.

All-inclusive Packages

For complete convenience, most travel packages are all-inclusive and offers meals, drinks, activities and more as part of the price.

Based on millions of reviews we've been awarded one of the Top 10% Attractions worldwide!

Tripadvisor Travelers' Choice 2020
Explore
Get to know the fabulous accommodation in Addo Elephant National Park
Activities Spotlight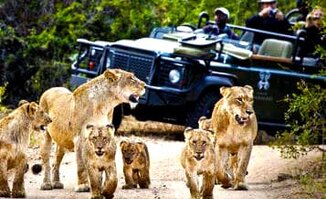 Game Drives
Rest your feet while going deeper and farther than you ever thought possible for up-close game encounters. The game drives leave just before sunrise, ensuring that you get to see the entire bush wake up. The feeling of excitement and being at one with nature is indescribable.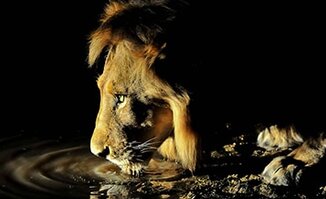 Night Safaris
As the sun sets over the horizon, the African bush is awash with colours and sounds. The evening dawns and the nocturnal animals come out from their sleeping spots. Night time is when new adventures are to be had while on safari.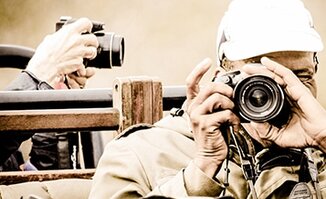 Photographic Safaris
Booking a specialised photographic safari allows you the opportunity to concentrate on photographing the animals, comfortable in the knowledge that the other guests around you are as keen to capture the perfect shot as you are.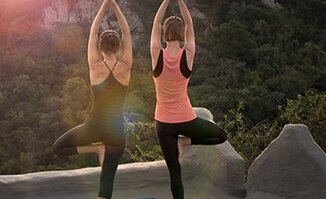 Yoga
Healthy body; healthy mind. Of course, it means something different to each and every person, but at its core is the common desire to live a good life – physically, mentally and spiritually. Yoga sessions will take place on the yoga deck beside the people both at beginners and intermediate level.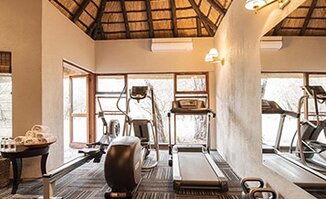 Gym Facilities
What better way to work up a sweat on the various gym machines while looking over the bush below. A well-equipped gym caters to your need for physical exertion when the African pot begins to pad the hips and you have had adequate time relaxing on your deck.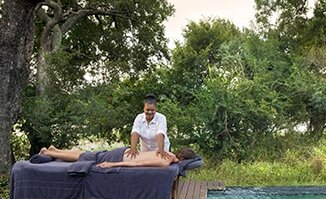 Spa Treatments
Massages, skin & beauty Spa treatments, promises an aura cleanse, body balance & sensory experience. The perfect place to rest and relax, this haven of tranquillity offers the ultimate African Spa experience.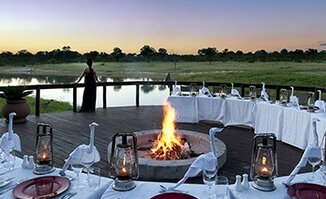 Boma Dinners
Returning to your camp after a successful evening game drive, you are greeted with the enticing sight of beautifully presented dining tables all encircling a roaring fire. Sitting down next to the crackling fire you are warmed by its dancing heat as the evening.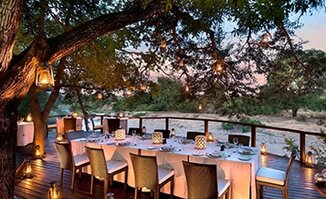 Bush Dinners
Dinner in the bush, is no ordinary experience and visitors are guaranteed to be blown away by the array of delicious meals, all of which are served to you in different locations. Delicious dinners eaten outside under gently lit trees are a wonderful experience loved by all.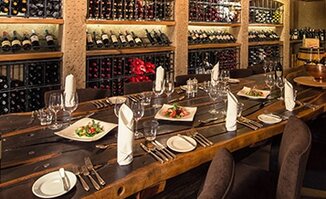 Wine Tasting
The combination of wine tasting and safari could possibly be the match made in heaven we've all been dreaming about. Wine connoisseurs will appreciate the spectacular cellar wich collecting the finest South African wines and offering interactive wine tastings.
Wildlife
In terms of wildlife, The game reserve is renowned for its elephant population along with the Big Five. Visitors can witness lions roaming the landscape early in the morning. Black rhinos are also present in the region, but due to their shy nature, they tend to stay in the thickets.
Addo Elephant National Park is home to interesting species of antelope and they are found in abundance, along with red hartebeest, eland, and kudu.
Game viewing is always in abundance in the game reserve. However, during the dry-summer seasons, you can witness a concentration of animals at the waterholes.

Get Our Best Rates Now
Let Us Help Plan

Your next Vacation